Clown Hunter
Staff member
Contributor's Club
You do know that the S2 score is only a minor reason he calls him dumb? It has nothing to do with Stroud's general intelligence or football IQ
Yeah, I know. I'm only talking football related because the character/intelligence assassination is superfluous (at best) and straight up gossipy at worst.
Dragging a young man's reputation through the mud says more about the person dragging than the young man himself, and I'll just leave it at that.
I don't know why people think that steel's opinion on the S2 test will change. Why keep going in circles.
I don't care about changing his opinion on the S2, but I refuse to be silent while he attacks the character of a 21 year old that has done nothing wrong.
I've hung out with all sorts of characters, including a member of a notorious motorcycle club, drug dealers, guys associated with a certain notorious Italian group, etc. It happens when you play live music and work for an international business.
It says nothing about me other than I'm capable of being myself without being influenced by others.
The less I know about the Texans coach's political views, or views on anything other than football the better. But that's just me, I might be in the minority.
My attitude summed up in one meme: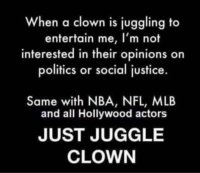 Just to be clear on my opinions

6. I enjoy watching train wrecks, faces of death etc...
Wow. You enjoy. . .Faces of Death. . .like ENJOY it
??!
. . .

ooooh-kaaay
Chad Forbes was one guy who posted the scores.

Tony Pauline was another and I think Brugler also posted this yrs scores.
So you trust those guys, and also claim to trust the guys that made the actual S2 test. Then this should matter to you, as well (except it undermines your narrative):

Brandon Ally, a cofounder of the test, stated Monday on The Pat McAfee Show that the leaked S2 scores for the quarterbacks in this year's draft class weren't entirely accurate and did not hold the proper context. Earlier in the year, he said to take any leaked score with "a grain of salt."
Source: SI.com