Clown Hunter
Staff member
Contributor's Club
The gangbangers of the NFL has and will continue to disrespect our Flag and National Anthem which destroys the unity of the fans. No matter what the the owners or coaches do the players actions are the stake through the heart.
Just curious, but do you measure everyone/everything that you are entertained by with the same standards?
Because, if so, there's not much left to be entertained by in the entertainment industry.
My own philosophy can easily be summed up in a meme I found a while back: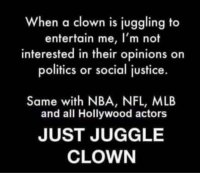 This is not a political post, but rather a perspective of how to continue to enjoy an entertainment product when the product decides to represent itself as more than just an entertainment option.
We have placed far too much importance on entertainers in general in our society.
They need to be relegated in importance according to what they really are: proverbial court jesters and circus clowns.