I think a throw to Hopkins would have been risky there, as the corner on Fuller was right in the passing lane. Sure, he could have lob'd it over him, but that's a much slower throw, and Hopkins' corner could have possibly break in front of Hop to deflect the pass. Sure, a completion to Hopkins there is a possibility, but I think it's a low percentage throw. My guess is someone ran a wrong route, so DW bailed on Fuller & Hop as options quick.
A lot of good stuff posted - my last bit on this. We often hear about, how in this offense, everyone needs to make the same read, be on the same page, etc.
For me, I would have like to have seen Fuller attack the middle of the field, the same route just break to the inside since both he and the TE on the opposite side break to the outside, big hole in the middle. If Fuller cuts inside the DB maybe/probably takes a step or two to follow which leaves an open lane for the throw to Hopkins. If it was an option route and Fuller choose inside, the spacing would have been much better. All in my opinion, of course, I'm just a dude looking at plays while sitting in a recliner eating Cheetos what the hell do I know.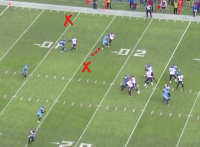 I hear what you are saying, but he was going the other way. He was trying to get back & more or less fell.

Maybe. That's how I remembered it watching the replays during the game. I'll go back and watch it.
Maybe, to me, it seemed most of his momentum was gone as he was slowing down to sit on a spot - but I'll admit I may be biased and expect these elite athletes to overcome the laws of physics at times and it just isn't always possible.
Any other plays that stand out or people would like to discuss?