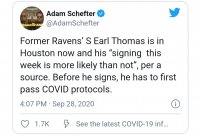 I'm a big UT guy, so I love E.T., however, at this point in their careers Mathieu is a much better player and they didn't think enough of him to resign him.
On top of that, they spent more money this off season on Safety help than any other position and now they're bringing in another player because the ones they have aren't worth a dime.
Just another reason that the GM/HC/Dictator needs to be canned asap.