Travis Kelce [knee]
was dealing with knee problems throughout the last part of the season.............it was due to a tight IT band (the iliotibial band is a fibrous band running from the outside of the hip to the knee).............apparently, it has again resurfaced. This is a condition that is commonly caused by overuse and poor lower limb mechanics. It can be a very persistent/recurrent problem. Typically, it takes a month or more of rest in order to control it.........very painful and distorts a player's knee/lower limb mechanics. Trying to play through it usually results in need for longer than expected additional rest and rehab.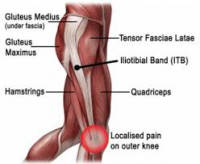 Derrick Nnadi [ankle]
had offseason ankle surgery early February...........it was arthroscopic cleanup of loose cartilage fragments...........he has experienced a very slow incomplete recovery.