2023 / Rebuilding Block 3 / Go Texans
T-29. Houston Texans
Overall score: 70.3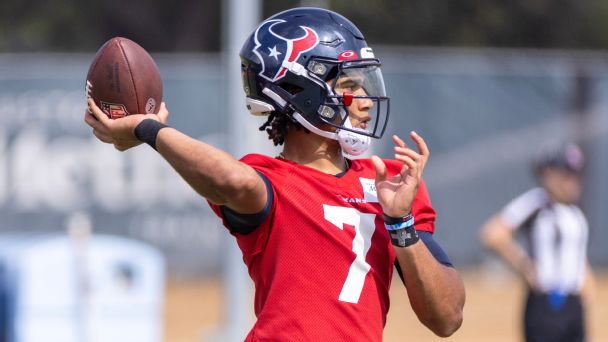 CATEGORY
SCORE
NFL
RANK
Overall roster (minus QB)
65.3
30
Quarterback
73.3
23
Coaching
73.0
25
Draft
77.3
15
Front office
65.7
32
1. Reason for hope:
With No. 2 overall pick
C.J. Stroud
at quarterback, there's reason to believe an exciting era is on the horizon in Houston. New coach and franchise icon DeMeco Ryans also has brought excitement and optimism. Houston has a young team it hopes can grow up together around Stroud, who has the traits of a franchise quarterback.
-- Graziano
2. Reason for concern:
Stability and continuity through the front office and coaching staff -- that is what I care about with this organization going forward. The Texans haven't been great in hiring, supporting and developing coaches since GM Nick Caserio took over in 2021. Ryans deserves much better, and the organization needs to establish some stability under him.
-- Riddick
3. Stat to know:
The Texans' trade from No. 12 up to No. 3 for edge rusher
Will Anderson Jr
. was the
second-largest first-round overpay
in the past 20 drafts, according to our approximate value-based draft pick valuations. It can work out -- the top overpay was
Julio Jones
, after all -- but expensive trade-ups for non-quarterbacks are exactly the sort of move that we have learned, on average, are bad bets. It was not a trade that instills confidence in the front office, which ranks 32nd in these rankings.
-- Walder
**Continuation of my post that I hadn't had a chance to finish**
1. The Texans QB room offers excitement in general. Stroud brings strong rookie work ethic and appears to be a fighter, Mills could have a bounce back season as QB2 in this new system, while CK brings the glue to the room as a solid veteran.
2. From what's being seen at this point.....the FO and coaching staff are delivering. They would be the least of my concerns. My biggest concerns are with the OL and WR's. If this OL gels and the running game is strong....the receivers could be just fine.
3. I believe analyst and reporters alike hated the Texans made the big splash on Day1 of the draft by getting Stroud at 2 and Anderson at 3. I truly think if any other organization had made the move, they would've been applauded...the Texans doing it just pissed everyone off. If Anderson becomes the beast he appears to capable of becoming.....what they paid to get him will be a moot point. Stroud was a justified pick at 2. Had the Texans bypassed Stroud at 2....analyst and reports would've roasted them for being inept. The Texans walked away from RD1 of the draft with the 1A or 1B player on offense and the #1 player on defense. It cost them to make this happen, but if the defense hits this season, that's a massive win for Caserio, Ryans, and Texans fans.
Last edited: