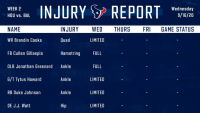 COOKS
, AS I PREVIOUS POSTED CAN BE EXPECTED TO BE LIMITED IN PRACTICE FOR A WHILE AS HE CONTINUES TO REHAB HIS QUAD...........SO THAT HE CAN PLAY IN REGULAR GAME.
GILLASPIA
HAS BEEN IMPROVING, BUT WOULD NOT BE SURPRISED IF HE BECOMES LIMITED LATER THIS WEEK.
GREENARD
SHOULD BE ABLE TO PLAY THIS SUNDAY.
HOWARD
SUSTAINED A GRADE 1 LOW ANKLE SPRAIN............WILL TAKE IT EASY DURING PRACTICES, BUT SHOULD BE READY FOR SUNDAY.
JOHNSON
WAS BACK TO LIMITED PRACTICE..........WOULD NOT GET TOO EXCITED ABOUT HIM APPEARING THIS SUNDAY.........AND IF HE DOES THAT SOON, WOULD EXPECT HIM TO BE INEFFECTIVE AND PRONE TO RE-INJURY.
WATT
SUFFERED A HIP INJURY.............AS OPPOSED TO LONNIE JOHNSON'S PREVIOUS INJURY, THIS IS UNLIKELY A SIMPLE HIP POINTER.............LIKELY A LABRUM INJURY. WITH HIS MULTIPLE MAJOR CORE, BACK, AND KNEE INJURIES/SURGERIES, THIS HARDLY SURPRISES ME AS HIS MECHANICS CAN NOT HELP BUT BE COMPROMISED. HE WILL TRY TO PLAY THROUGH THE INJURY THIS SUNDAY..........AND I WOULD NOT EXPECT A BETTER PERFORMANCE THAN WHAT WE SAW AGAINST KC.