NFL attendance hits a 15-year low
January 3, 2020, 1:28 PM EST
More people are watching the NFL on TV.
Fewer people are watching the NFL in person.
According to David Broughton and Andrew Levin of
Sports Business Daily
, the NFL averaged 66,648 attendees at home games in 2019. That's the lowest average since 2004.
The Cowboys averaged 90,929, leading the league for 11 straight seasons. Fifteen teams saw a decline in attendance, led by the Jaguars (8.7 percent drop), Raiders (7.6 percent) and Bengals (7.0 percent).
Two teams saw an increase of more than five percent. Washington's audience grew by 7.3 percent (the stadium was still at less than 80 percent capacity), and the Bills have a 6.0-percent jump.
Several years ago, the league suspended the blackout policy, which blocked local broadcast of home games if all non-premium tickets weren't sold. Despite efforts to improve the in-stadium experience, there's no substitute for winning.
Attendance peaked in 2016, with 69,487 per game. In 2004, 66,328 attended each game, on average.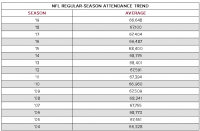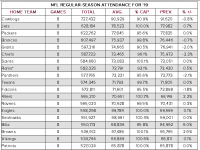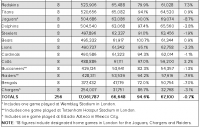 ******************************************************
These numbers as presented by the NFL do not tell the whole story. They, in fact, minimize the effects of the decline in attendance. The NFL keeps emphasizing that the attendance that has been lost has more than been compensated for by the significant increased TV viewership that has occurred during the decline. Attendance is mandatory for the NFL to attain much of their revenues. And the TV viewership numbers are disingenuous, in that if an individual turns an NFL game on for 5 minutes, it is counted as a game view. As this trend continues, the NFL /teams will be continuing to increase ticket, parking, food and drink, paraphernalia prices.........and its hand in the gambling industry in order to boost their revenues at the cost to fans.
Last edited: