Dear Pro Football Focus, do everyone a favor and just stick to stats
The football website has slowly evolved into an annoying prima donna.
Back in 2007, a young English gentleman by the name of Neil Hornsby created a website that dove deep into the crevices of the basic football statistics that everyone's parents and grandparents grew up with. Hornsby's site is now known to many within the football community as Pro Football Focus and has been consistently increasing its popularity ever since it was created a decade ago.
Fast forward to today and the majority owner of Pro Football Focus is
former NFL wide receiver Cris Collinsworth
, more than half of the teams in the league pay the website a good chunk of change for their in-depth statistics, and the company employs over 70 football-obsessed people.

Zimmer is also not even close to being the only NFL coach or player who has criticized how much these grades are thought of by some as the holy grail for player evaluation.
Back in 2013, Zimmer's old buddy, Cincinnati Bengals head coach Marvin Lewis, called Pro Football Focus "
some dumbass website
that doesn't have any idea of what football is." Buffalo Bills running back LeSean McCoy was also not too pleased with the site back in February when it did not include him in their list of the
Top 101 players of 2016
.

Then there have been times when Pro Football Focus has actually disagreed with Pro Football Focus.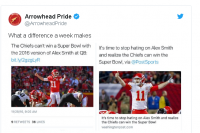 Now if this was just another small football blog ran by some guy living in his parent's basement (not that there is anything wrong with that), then players and coaches around the NFL probably would not feel obligated to answer the questions their local media opts to ask them each week in relation to a player's grade on the site.
However, that is not the case. Pro Football Focus has evolved into some sort of football bible that is worshiped by a good portion of the sport's media. Many of them use the site's grades to form their own opinion on a certain player or matchup. Their player rankings were even featured during NBC's
Sunday Night Football
broadcasts last season.
But in reality, the player grades on Pro Football Focus should really be taken in a similar vein as all of the ludicrous grades divvied out by various online publications to every team after they finish selecting players in the NFL Draft.
THE REST OF THE STORY